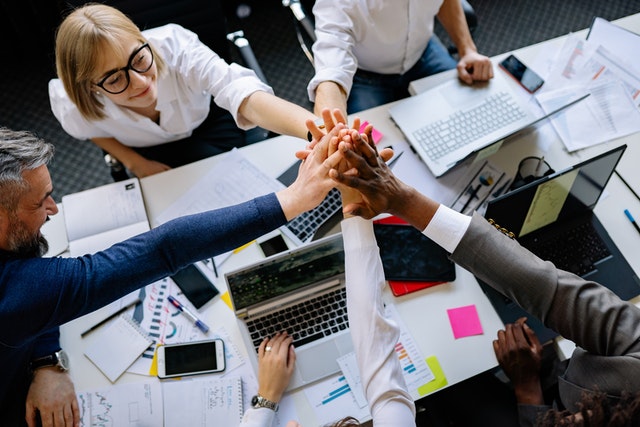 by Donté Maguire, Research Associate
At HEI, our group of applied researchers pride ourselves in approaching our work through practices that are deeply inclusive of a diversity of voices, perspectives, and experiences. These inclusive practices can range from using culturally responsive research methodologies to soliciting client feedback in instrument development to building genuine, mutual collaborative relationships with our clients. For the latter, we always assume that a client's insight is invaluable at each step of the evaluation process, from design to deliverable. Personally, I do not believe I am doing my job well if I am not learning—and often the most enriching and meaningful learning takes place in partnership with our clients. Below, I share three approaches I've found helpful in establishing fruitful, collaborative client relationships:
Start by listening. I like to start each new partnership by listening. While I understand some information about the client and the project from the scope of work and other initial project documents, I get a much better sense of both through conversation. Conversations are great opportunities to learn a client's intent for a particular design decision or the "heart" of desired outcomes that go beyond numbers and expertly crafted objective statements. In addition to establishing our team's competency, I like to use the first one to two meetings to ask questions such as: What would success look like for the client? What is the client's previous experience with research and evaluation? What excites the client about the project? What do they hope to learn?
Realize that resistance or tension can present opportunities for learning for you and the client. I have to credit my thinking about this topic to my participation in a training offered through the American Evaluation Association (AEA)—specifically the workshop series, "Collective Power: Using Participatory Leadership Facilitation in Evaluation Design," led by Dr. Rita Fierro, Dr. Sharon Attipoe-Dorcooand, and Katie Boone, MS.In one session, the workshop leads introduced the concept of two opposing forces producing a third, new force or direction. A central takeaway for me was that having a different perspective or expectation than a client can be an opportunity to chart out a new course of action together that is different from what either of us originally envisioned. The sum of our inputs becomes greater than its parts.
Intentionally create mechanisms for client collaboration. In addition to traditional "kick-off" meetings where we review roles, project scope, and evaluation design, I also like to incorporate questions about the culture of the client organization and/or team. Often in these conversations, a client will have an "aha" moment of "Oh, we should probably share this document with you" or "That's a great question and something we should consider in the future." Rarely do organizations and teams have the time to reflect in real-time, so these conversations also give them an opportunity to reflect on learnings before a year-end retreat.Other ways I like to directly invite client collaboration is in the design of data collection activities, development of research instruments (e.g., how survey or interview questions are worded), identifying key stakeholders in their field, and formatting final deliverables (e.g., when thinking about audience).
If you'd like to learn more about our approach to collaborative client relationships, please reach to our team at info@higheredinsight.com. We would love to hear from you—and learn with you!